New York Burger Bar wins Newsday's Burger Smackdown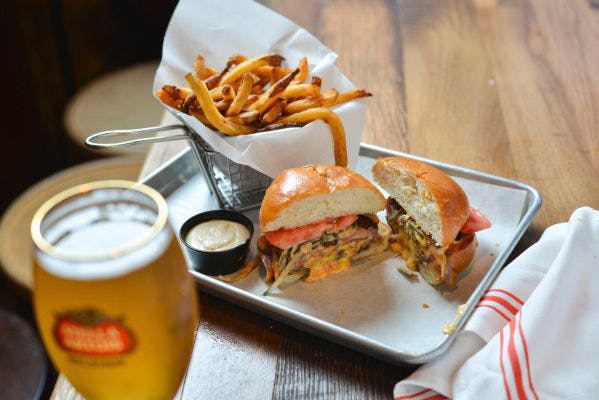 Newsday's Burger Smackdown came down to the battle of Massapequa, with upstart New York Burger Bar vanquishing All American Hamburger…
The Smackdown began two weeks ago, with 32 eateries vying for burger primacy. The competitors ranged from national chains (Shake Shack) and local gastropubs (Amity Ales Brew Pub, Amityville) to steak houses (Peter Luger, Great Neck), New American restaurants (Market Bistro, Jericho), butchers (Ceriello's, Williston Park) and burger specialists (BBD's, Rocky Point).
More than 50,000 votes were cast at newsday.com and on Monday, New York Burger Bar, which opened in April, triumphed with its Juicy Lucy, an eight-ounce patty stuffed with American cheese and topped with grilled red onion, tomato, pickle and a pink mayonnaise-based sauce. (At $14.95, the Juicy Lucy costs more than 10 times the $1.40 charged by All American for its classic two-ounce hamburger, the Smackdown's runner-up.)
Richard Bedrosian, who owns New York Burger Bar with partner Georgia Galatoulas, said, "I never thought in a million years that after such a short time, we could take on so many great burger places and come out on top.
Founding chef Louis Mitrovich conceived of its Juicy Lucy; he was succeeded recently by Jonathan Chevlin, who has no plans to fiddle with success.
http://www.newsday.com/lifestyle/restaurants/feed-me/new-york-burger-bar-in-massapequa-wins-newsday-s-burger-smackdown-with-juicy-lucy-1.11228043